Shown is our Premium Foam Conversion for the late model Ducati Multistrada front seat with DTX inserts, GRIPZONES, and black welt (PFC-662-SE9). The matching rear seat cover - designed to fit the OEM rear foam shape - completes the look.

Ducati Multistrada
2015-17 1200 / 1200S / Pikes Peak
2018+ 1260 / 1260S / Pikes Peak
(Not the Enduro)
Sargent is pleased to offer our Premium Foam Conversion for the 2015+ Multistrada 1200 / 1260. This special edition of motorcycle seat upgrade is as comfortable as our complete World Sport seats and features multiple upholstery options, including the bold, rugged Performance PLUS with extra-tough materials and construction.
Our exclusive Performance PLUS treatment utilizes our DTX seating area material and special side GRIPZONES, making an excellent choice for on- or off-road use. DTX offers a strong, yet comfortable seating surface with just the right amount of traction, while the special GRIPZONE side panels offer extra gripping power during braking or off-road maneuvers. And to top it off, we construct these seats with beautiful, extra-tough double stitching for a seat built to last with rugged good looks too! And, it's virtually maintenance-free.
Gel-Free! Superior comfort and suspension without the thermal retention and extra weight of gel. Our Super Cell Atomic Foam suspension is our own unique and proprietary blend of resilience, firmness, and vibration-absorption qualities. The seat foam is wider than stock and contoured for enhanced lateral support with a level, wider and slightly cupped foam shape that distributes pressure evenly and eliminates hot spots. Together with our patented Zone Suspension Body Contour Technology, you'll be ready to conquer the longest rides with ease.

This Premium Foam Conversion offering has the following features:

Gel-Free! Super Cell Atomic Foam and enhanced shape with significantly increased width and lateral lift, providing far better distribution of pressure over a greater area.
Molded Super Cell Foam cushion with Patented Zone Suspension Body Contour Technology featuring hidden central relief channel plus a special internal visco-layer that absorbs and diminishes high pressure points on the front seating area. With this patented technology, the elements are molded into the foam just below the surface, resulting in a unified foam cushion - without seams or glue joints - for optimal comfort and performance.
Offering includes Premium Foam Conversion for the front seat only with a matching DIY rear seat cover for the OEM rear seat.

Our deluxe Performance PLUS upholstery with durable and textured DTX vinyl seating inserts, special GRIPZONES side panels, extra-tough double stitch construction, and choice of color welt/contrasting stitch.
Non-standard upholstery also available for a wider selection of choices (restocking fee applies).

Professional installation (on provided OEM seat).

Sargent Advanced Heat with our Advanced Heat Controller and our Superior Heat Technology. This patented technology features our proprietary heat pad molded into the foam just below the surface for optimal comfort and protection. Our heat pad utilizes our exclusive Flex-Film Element and Fine Wire Spiral Wound Glass Core Technology for excellent performance and comfort. Combine this with our Advanced Heat Controller and you'll be ready for whatever the weather throws your way. Optional.
(Not compatible with the Enduro models.)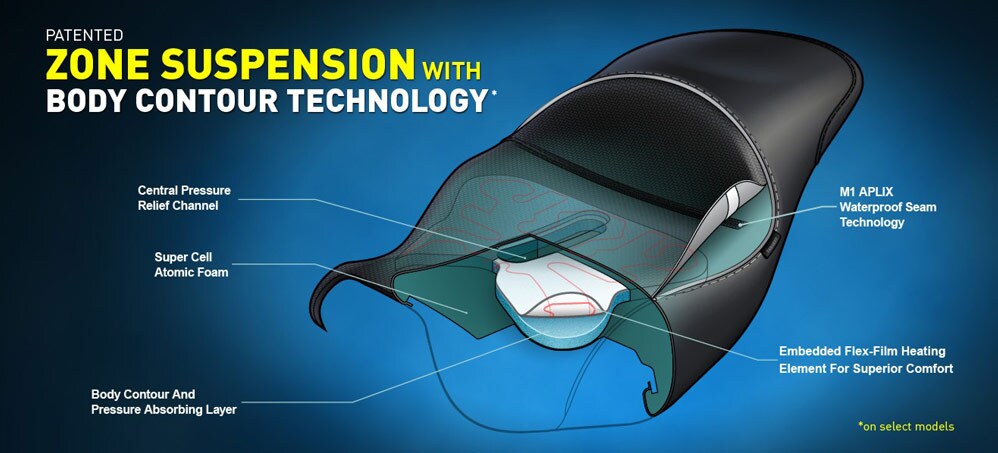 NOTE: This is not a complete replacement seat offering - it DOES NOT include the seat base pans. You must send your OEM seats to us to have this conversion done. We will replace the foam and seat cover only. Your original OEM components (seat cover and foam) will be returned with the newly converted seat.
We Take Heated Seating To A New Level!

At the core of our heated options is our recently designed Sargent Advanced Heat Controller with "Comfort Control." It offers maximum comfort in cool weather with fully variable heat control. Unlike competitive products that are just on or off, our advanced controller delivers full range heat control with customizable features. This fine control is essential on a motorcycle where ambient temperatures can fluctuate drastically while riding. The perfect temperature is right at your fingertips!
Features include:
Solid-state Pulse Modulating Heat Controller.
Unlike competing products that offer just a few settings, our solid-state, ten-step heat controller is fully variable from off to full power and anywhere in between, providing maximum comfort control. This level of control is essential as outdoor fluctuations in ambient temperature can be significant and constantly changing while motorcycling. It is completely waterproof and can be conveniently mounted within view. And, the adjustable power and brightness settings are displayed in a LED bar graph that shows the exact temperature setting day or night, with user settings being held in memory even when the bike is turned off.
Superior Heat Element Technology.
Our heat pads are molded into the foam just below the surface for optimal comfort and protection. This patented technology utilizes a thin, Conformable Film and Fine Wire Spiral Wound Glass Core Technology for excellent performance. Combine this with our Advanced Heat Controller for a fully integrated heating experience.

Power Draw.
Each heated seating area (front or rear) is supplied with its own heat controller. Each heated zone draws approximately 1.7 amps (or 23 watts @ 13.5 volts), and dual zone installations will draw approximately 3.4 amps (or 46 watts @ 13.5 volts) at full power.
Since this service requires that you send your stock seat to us to perform the conversion, you may want to secure your order with either an e-commerce order or phone call. This will ensure the quickest turnaround time.
When you ship your seat to us, please include a copy of your order confirmation to ensure accurate handling of your seat upon arrival.
As usual, your credit card will not be charged until your order ships to you.
We will return your original OEM foam and cover - uninstalled - along with your newly converted, ready-to-ride, upgraded Ducati MultiStrada seats.