The REVolution Seat for the Kawasaki Versys 1000 LT is shown with a non-standard upholstery featuring contrasting welt and stitch (2015-18 Model REV-663-NS). Sargent Advanced Heat upgrade available.
KAWASAKI VERSYS 1000 LT 2015-18
KAWASAKI VERSYS 1000 LT 2019+
Combining our patented foam technology with our world class customer service, Sargent presents REVolution Seats - the OEM seat upgrade that brings our signature World Sport comfort to more models faster. And with our turnkey two-way shipping and guaranteed* two-day turnaround time, who can resist the REVolution?
REVolution Seats by Sargent feature exclusively:
Guaranteed 48-Hour Turnaround Service**
Patented Zone Suspension Body Contour Technology
Hand-crafted, marine-grade upholstery with sealed seams - made-to-order. Upholstery upgrades available*
Professional installation with moisture barrier on your OEM seat pan
Optional Sargent Advanced Heat with Electronic Controller* upgrade
Sargent's "Best In The Industry" Extended Warranty
REV Prep Kit with Pre-Paid inbound shipping label and shipping instructions
30-Day Money Back Guarantee*
*Subject to restocking / reversal fee
**Certain factors may affect turnaround time such as customization, heat upgrades, back-ordered components, weather, shipping carrier issues, pandemics, and acts of God. Our 48-hr guarantee applies to Sargent Direct customers. Turnaround times may vary with re-sellers.

Uniquely and tastefully branded upholstery treatment.
It's what's on the inside that counts.
Introducing Zone Suspension with Body Contour Technology.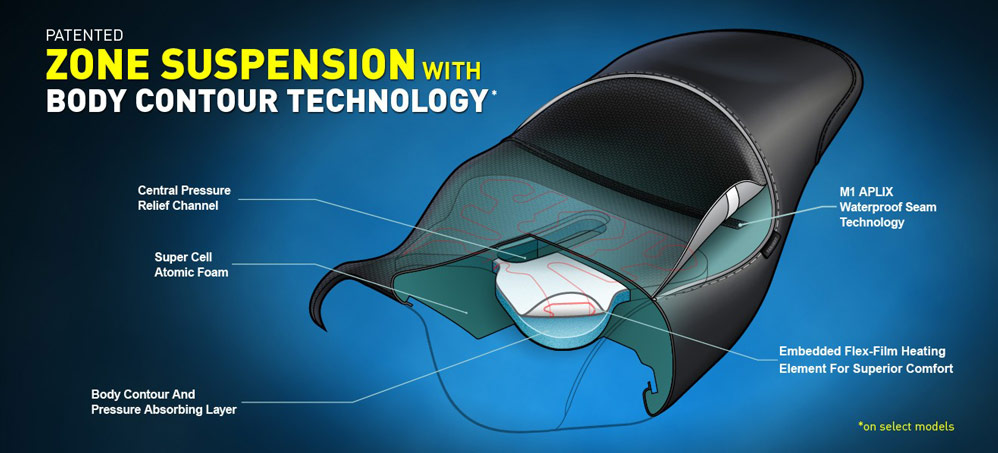 Body Contour and Pressure Absorbing Layer. A special layer of visco-elastic foam (or memory foam) absorbs your unique body shape and pressure points to help eliminate "hot spots." Completely encapsulated just below the surface, this unique construction technique protects this special foam from undue wear - allowing it to do its job - without the stark transitions or connecting seams that would otherwise compromise integrity and comfort.
Super Cell Atomic Foam. The foam that made us famous still forms the basis for all of our seats today. Our proprietary formulation has the perfect blend of firmness and spring-suspension performance. Each bike-specific shape is designed for optimal ergonomics, pressure distribution and support. And our foam product is Gel-free, so it won't suffer from the thermal retention issues or excess weight of Gel.
Central Pressure-Relief Channel. A central pressure-relief channel is incorporated to relieve pressure on the body's perineum area.
M1 Aplix Seam Technology. Gluing upholstery to the foam can result in a foam cushion that is too hard. Our seat construction allows the upholstery to float, permitting the foam and upholstery to move independently for maximum suspension value and long-term product integrity. When "deep-contour seams" are necessary, we utilize our M1 Aplix seam technology. The result? No glue to come loose and no wires to cause discomfort.
Superior Heat Technology. Our heat pads are molded into the foam just below the surface for optimal comfort and protection. This patented technology utilizes a thin Flex-Film and Fine Wire Spiral Wound Fiber Core Technology for optimal comfort and performance. On a motorcycle, ambient temperatures can swing rapidly. So, by combining this technology with our Advanced Heat Control Unit, you'll be ready for whatever the weather throws your way with precise temperature control right at your finger tips.

Patent No. US9138062 B2
International patents pending.
We Take Heated Seating To A New Level!

At the core of our heated options is our recently designed Sargent Advanced Heat Controller with "Comfort Control." It offers maximum comfort in cool weather with fully variable heat control. Unlike competitive products that are just on or off, our advanced controller delivers full range heat control with customize-able features. This fine control is essential on a motorcycle where ambient temperatures can fluctuate drastically while riding. The perfect temperature is right at your fingertips!
Features include:
Solid-state Pulse Modulating Heat Controller.
Unlike competing products that offer just a few settings, our solid-state, ten-step heat controller is fully variable from off to full power and anywhere in between, providing maximum comfort control. This level of control is essential as outdoor fluctuations in ambient temperature can be significant and constantly changing while motorcycling. It is completely waterproof and can be conveniently mounted within view. And, the adjustable power and brightness settings are displayed in a LED bar graph that shows the exact temperature setting day or night, with user settings being held in memory even when the bike is turned off.
Superior Heat Element Technology.
Our heat pads are molded into the foam just below the surface for optimal comfort and protection. This patented technology utilizes a thin, Conformable Film and Fine Wire Spiral Wound Glass Core Technology for excellent performance. Combine this with our Advanced Heat Controller for a fully integrated heating experience.

Power Draw.
Each heated seating area (front or rear) is supplied with its own heat controller. Each heated zone draws approximately 1.7 amps (or 23 watts @ 13.5 volts), and dual zone installations will draw approximately 3.4 amps (or 46 watts @ 13.5 volts) at full power.
Ask About Our Elegantly Simple Heat Controller Mounts - two designs from which to choose.