The BMW R 1200 GS World Sport Adventure Seats are shown on the Regular Height Front Seat with CarbonFX inserts, Metallic Silver Welt and black trim (WS-546-18). The BMW M-Sport Tri-Color Detail has been discontinued.

BMW R 1200 GS / GSA (2004-13 OIL-COOLED)
Continuing in the tradition of meticulously designed and produced seats, Sargent is pleased to offer the World Sport Adventure Seats for the BMW R 1200 GS / GSA.
Utilizing the latest digital modeling, computer design (CAD) techniques, precise manufacturing processes, and superior materials, each World Sport seat pan is precision-molded for superior fit and outfitted with high-quality hardware. The R 1200 GS features our PolyTec base pans with "better than stock" hardware.
Gel-Free! Superior comfort and suspension without the thermal retention and extra weight of gel. Our Super Cell Atomic Foam suspension is our own unique and proprietary blend of resilience, firmness, and vibration-absorption qualities - making it well suited for maximum long distance comfort.
The World Sport Seat for the BMW R 1200 GS features our marine-grade, UV-stabilized, color-coordinated upholstery - hand-sewn specifically to maximize the qualities of the Super Cell Foam. In addition, it is virtually maintenance free.
These World Sport Adventure Seats have the following features:
Fully-adjustable in all seat positions, like the BMW stock seats
Offered with CarbonFX vinyl seating inserts.
A choice of black or metallic silver welt.
Improved riding comfort for both the driver and passenger
Custom upholstery options available (for an additional charge).
Low Version also available.
Sargent is setting new Standards.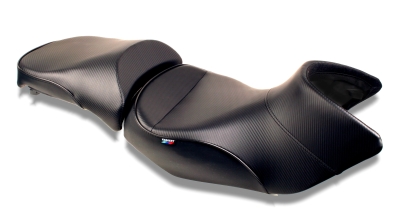 This standard upholstery configuration is shown with CarbonFX inserts, black welt, and smooth, matte black trim on the Regular Height seat.
Not one, but two choices.
The World Sport Adventure Driver's Seat for the R1200GS is available in two seat heights:
The Regular Version, which is comparable to the OEM high seat, and the Low Version, for improved reach to the ground.
REGULAR
LOW
STOCK OEM
33.00" - 33.80"
32.30"
SARGENT
33.00" - 33.80"
32.00" - 32.80"
WS-556
The Passenger Seat is the same for either set-up.
The World Sport Adventure Seats are also available for the R1200GS Adventure. All measurements were taken on the Driver's Seat of a 2007 Adventure with 11,000 miles, hard cases and preload set halfway between maximum and minimum.
STOCK
Adventure
Seat
Low Position
34.5"
High Position
35.125"
Regular
SARGENT
WS-546
Low Position
33.375"
High Position
34.25"
Low
SARGENT
WS-556
Low Position
32.625"
High Position
33.375"
We Take Heated Seating To A New Level!

At the core of our heated options is our recently designed Sargent Advanced Heat Controller with "Comfort Control." It offers maximum comfort in cool weather with fully variable heat control. Unlike competitive products that are just on or off, our advanced controller delivers full range heat control with customizable features. This fine control is essential on a motorcycle where ambient temperatures can fluctuate drastically while riding. The perfect temperature is right at your fingertips!
Features include:
Solid-state Pulse Modulating Heat Controller.
Unlike competing products that offer just a few settings, our solid-state, ten-step heat controller is fully variable from off to full power and anywhere in between, providing maximum comfort control. This level of control is essential as outdoor fluctuations in ambient temperature can be significant and constantly changing while motorcycling. It is completely waterproof and can be conveniently mounted within view. And, the adjustable power and brightness settings are displayed in a LED bar graph that shows the exact temperature setting day or night, with user settings being held in memory even when the bike is turned off.
Superior Heat Element Technology.
This technology utilizes a thin, Conformable Film and Fine Wire Spiral Wound Glass Core Technology for excellent performance. Combine this with our Advanced Heat Controller for a fully integrated heating experience.

Power Draw.
Each heated seating area (front or rear) is supplied with its own heat controller. Each heated zone draws approximately 1.7 amps (or 23 watts @ 13.5 volts), and dual zone installations will draw approximately 3.4 amps (or 46 watts @ 13.5 volts) at full power.